The Nigerian military has issued a warning to "subversive elements and trouble makers" to desist after a week of protests about police brutality.
The warning came as protesters were attacked by unidentified men with machetes in the capital, Abuja.
Demonstrations against police brutality have taken place in cities across Nigeria in the past week.
The protests have continued despite authorities agreeing to disband the Special Anti-Robbery Squad (Sars).
The unit has been accused of extrajudicial killings, extortion and torture, especially of young people.
The government on Thursday announced a ban on all protest in Abuja, saying the demonstrators were violating public safety measures introduced to tackle Covid-19.

How did the protests start?
The protests started following the alleged killing of a young man by officers from the Sars unit at the beginning of October.
Protesters called for the unit to be disbanded.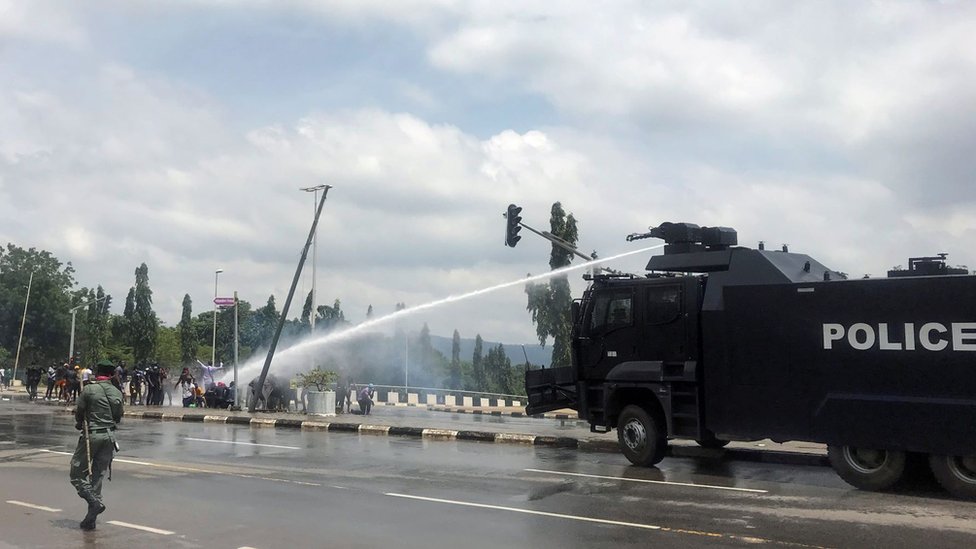 The police closed it down and announced a new unit – the Special Weapons and Tactics (Swat) team.
But protesters rejected the announcement, as many see the changes as not enough to reform the police.
The protests have attracted worldwide attention – most recently the CEO of Twitter, Jack Dorsey, tweeted his support for the protests.
Those working in Nigeria's tech sector have been prominent among those complaining about the activities of Sars officers.
Nigeria superstars Wizkid and Davido have also backed the protesters.
What are the accusations against Sars?
From theft to violent attacks to murder, people have been sharing their experiences at the hands of Sars.
Obianuju Iloanya told BBC Newsday that her brother Chijioke disappeared eight years ago after being arrested by Sars officers. https://emp.bbc.com/emp/SMPj/2.35.13/iframe.htmlmedia captionWho is policing Nigeria's police?
The family was told by an officer he had been killed but were not shown his body.
The officers later denied arresting him.
"Up to now we don't know whether he is alive or not," Ms Iloanya said.
She told the BBC she had joined the protests to get justice for her brother.
"I do not just demand for Sars to be ended, I want accountability, I want justice. They cannot just tell us Sars has been ended. We want closure."
"It's painful, it's not enough for us, it doesn't do anything for us because these officers who might have killed these boys are going scot-free with no justice."
What has the government done?
It has promised to meet several of the protesters' demands.
As well as banning Sars, President Muhammadu Buhari has promised an "extensive" reform of Nigeria's police service.
The authorities have also vowed to free all those protesters who have been detained.
They say that all Sars officers will undergo a psychological and medical examination before further training and redeployment, and that Sars officers will not be redeployed to the unit set up to replace it, the Special Weapons and Tactics (Swat) team.
However, the protesters remain sceptical, pointing out that several previous pledges to abolish or reform Sars were not fulfilled.
BBC